Thousands of active File Sight installations!
PA File Sight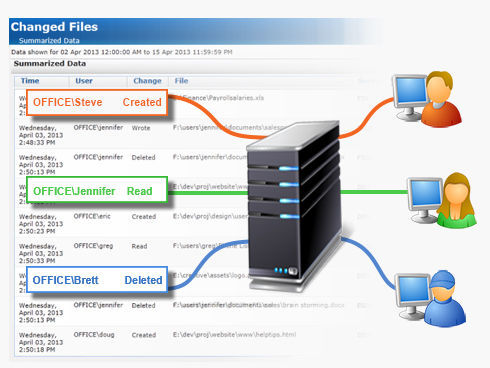 Real-time file and folder monitoring

Reports username,
IP address
and computer

Record creations, deletions, accesses, changes

Alert on file and folder moves and renames

Monitor file and folder permission changes

File Auditing Compliance

Does
not
rely on Windows Native Auditing

Centralized Management with the Ultra Edition
File Monitoring and Access Auditing
PA File Sight is a file monitoring software that will help you determine who is reading and writing important files. It can tell you when a new file or folder is created, renamed or moved. And, with our file watcher, when a file or folder gets deleted, PA File Sight can tell you who deleted the file which computer they deleted the file from (IP address and computer name).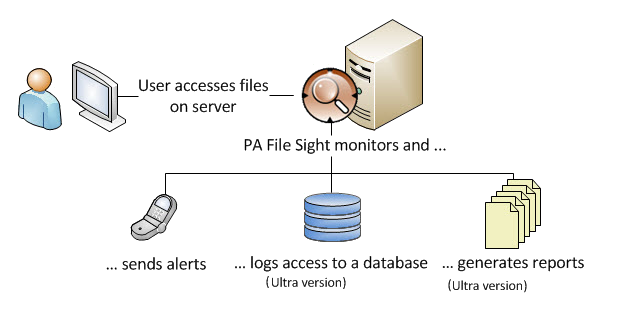 Report from the Ultra Edition: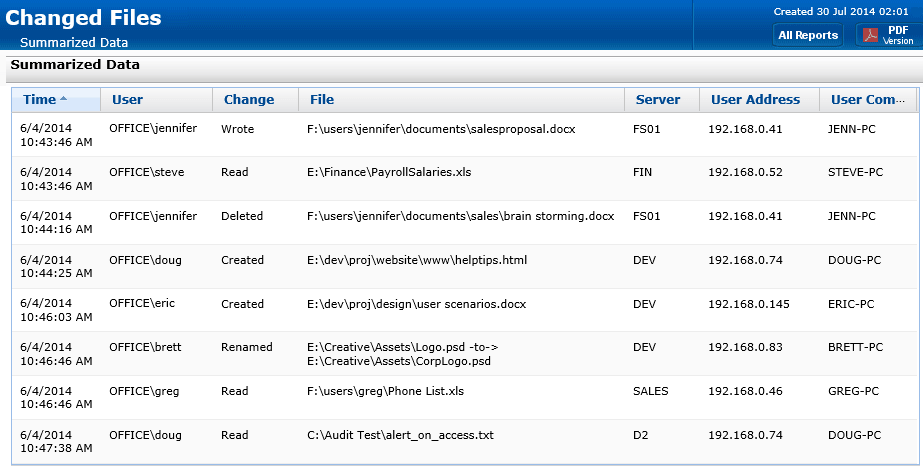 Customers who trust PA File Sight

See more ...
Ultra and Lite Editions
Compare Ultra vs Lite to see the differences.
For example, the Ultra Edition has Historical Reports and Advanced Alerts that help detect file copying activity.
Screenshots
| | | | |
| --- | --- | --- | --- |
| Monitoring Options | Monitor User Activities | Many Alert Types | Configuration Security |
Enterprise Robustness

Optionally store audit data in
Microsoft SQL Server
(Ultra Edition)

Robust security,
your data stays on your servers
- it is not sent to the cloud

Monitor
remote servers
as easily as local servers

Automatic failover
with a hot standby server

Access control
to limit who sees what reports

Backup SMTP server
settings to help ensure alerts get out
File Auditing Features
File Monitoring:
All files or just a subset
File and folder creation, deletion, access (reads), changes (writes)
File and folder permission changes
Successful actions and well as failures
Real-time monitoring that does not require enabling system audit events
Alert Details:
User account, including domain
User IP address and computer name
Target file and folder
Activity that was done to the file (read, write, delete, ...)
Date and time of action
Notification Responses:
Email message
SMS text message
SNPP pager, etc.
Record to a log file
Run a program
Reporting (Ultra edition only):
Report on specific users, files or activity (file delete for example)
Report on specific time range
Configurable data retention period
Reports in text, HTML, .CSV or PDF formats
See the detailed feature list for more information.
Centralized Management for Ultra Edition
PA File Sight 6.4 is enterprise ready. Easily push out monitoring Satellites to watch remote servers and report back to a central system. Administer the system from anywhere.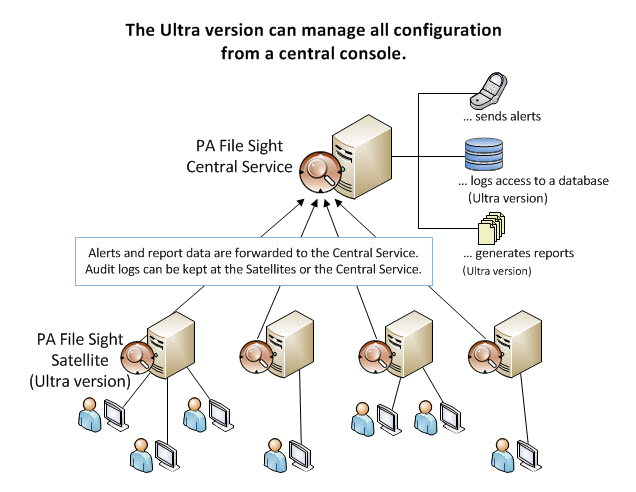 File Access Auditing Compliance
Many compliance mandates require auditing file access and ensuring file integrity. PA File Sight can help meet those requirements, including those listed below:
PCI (Payment Card Industry) DSS 10.5.5, 11.5, 12.9.5
SOX (Sarbanes-Oxley) DS5.5
GLBA 16 CFR Part 314.4(b) and (3)
HIPAA 164.312(b)
FISMA AC-19, CP-9, SI-1, SI-7
ISO 27001/27002 12.3, 12.5.1, 12.5.3, 15.3
PA File Sight can monitor log files. It can alert on writes (changes) to files, but ignore the expected appends to log files. This lets you detect log tampering.
How to Get Started?
File monitoring doesn't need to be complicated. PA File Sight can be installed and configured in literally a minute or two. Specify a local path and some file types to watch and it will get to work immediately.
Start Your Free Trial
No signup needed
30-day full trial - no credit card needed