Server Monitoring 101 Guide
With the changing landscape of how IT resources are used from in-house network systems and servers to Cloud-based servers and systems, server monitoring is an essential task. Not monitoring the status of your servers is leaving everything up to chance and hoping the operating system, memory, storage drives, and applications all work harmoniously together without any issues or problems.
Yet, in the real world, this idealistic operating environment does not exist. Things can and do go wrong. When they do, you don't want to be the last one to know or not know what went wrong or what caused the problem. Therefore, server monitoring is vital.

What Is Server Monitoring?
Defining server monitoring requires understanding the basics of server operations. Most server environments function similar to stand-alone computers with a few exceptions. Most notably, rather than a single user accessing the machine, multiple users access the server for a variety of purposes, including:
Saving Data
Data Analysis
File Creation, Copying, Deleting
Applications
Virtual Desktop Environments
Printing
Internet Access
PA Server Monitor is a stand-alone application that can be used to monitor the status of multiple servers, whether they are in-house, in a data center, or in the cloud.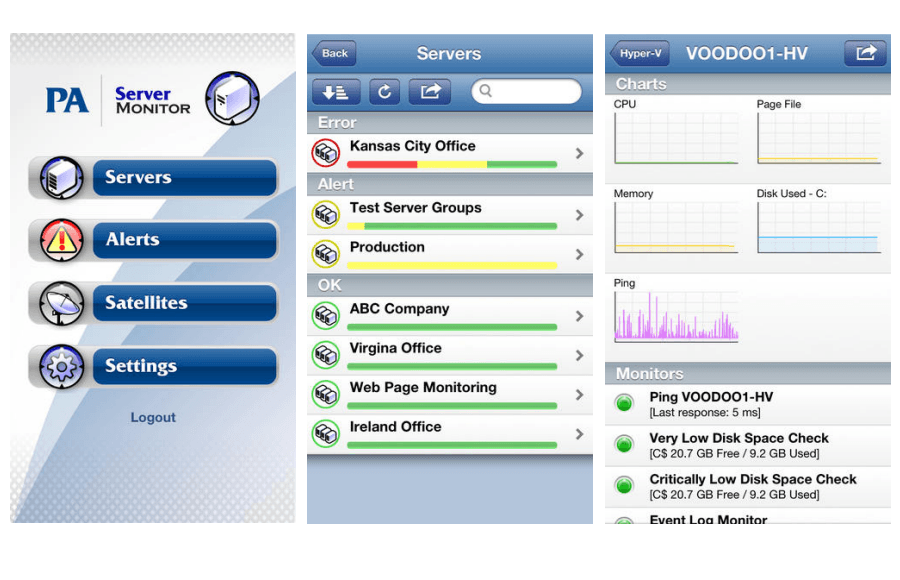 The benefit of having a single tool to monitor your servers is it makes it much easier to check the status of each one without having to switch between applications and tools. Furthermore, you get an accurate and real-time status of each server with remote server monitoring from within a single application viewing window.
Plus, you get the added flexibility to determine which types of resources you want to monitor on each respective server. For instance, you may only need to monitor drive storage space on a network storage server used for data backups.
On the other hand, you may need to monitor memory usage, system usage, and other such system resources and parameters on a server running different types of applications.
What Types of Resources Can Be Monitored?
Depending on the server monitoring tools and applications you decide to use, you can obtain real-time data on various resources, including but not limited to:
Status of Network Adaptors
Memory Utilization
CPU Utilization
Disk Utilization
Storage Utilization
System Errors
Event Logs
Changes to Operating System Files
Furthermore, you can configure server monitoring software applications and tools so that you can see the status of various. You can see when things are running okay, when there are alerts that require your attention before they become major issues, and when there are critical errors and alerts that require immediate action.
Are There Any Limitations to Server Monitoring?
Server performance monitoring is limited to providing details about the status of server resources and resource utilization. This is why it is not uncommon for businesses to use multiple server monitoring solutions when they want to monitor other types of things, such as file storage monitoring, file access, and so one.
There can also be limitations to remote server monitoring functions when servers are in the cloud, depending on what server monitoring software applications you are using. Some third-party providers do offer monitoring tools, but, again, these can be limited and may not provide the complete picture you need. However, with PA Server Monitor, you can still get a complete picture of your cloud-based servers.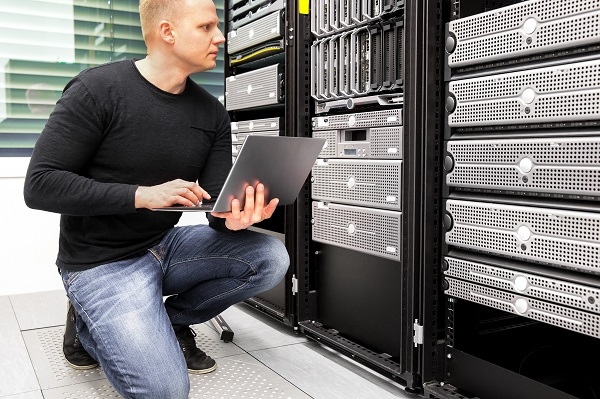 Is There an Easy Way to Enable Server Monitoring?
If you lack the IT monitoring and application performance management resources and staffing, your best and easiest way to enable server monitoring is using a combination of server monitoring software solutions to capture the data you need and require.
This type of solution does not require you to understand how to use scripts or configuration files to enable server monitoring. There is a simple and easy-to-use console application that you can use to configure what system resources you want to monitor and track in real-time.
How Often Should Server Monitoring Logs or Reports Be Reviewed?
The purpose of enabling server performance monitoring is to help keep your servers running optimally. Having a server performance monitor application and not using it after configuring it is never a good idea or best business practice.
This would be like choosing to ignore the check engine light on your vehicle's dash and just leaving it up to chance that nothing will go wrong. Eventually, something will go wrong. Wouldn't it be better to know beforehand so you could possibly prevent a server crash or another critical event?
Ideally, server monitoring logs should be reviewed at least once a day to identify potential problems before they become a critical issue—although, if you discover errors or critical events, then those should be addressed as soon as possible.
To ensure you are notified of system critical events and errors, you can enable notifications to be sent via email or text message. You can choose what type of event and errors you are notified of and how. This way, you do not have to constantly monitor the status of your servers and related resources.
For further information about server monitoring software solutions for any size of business or network environment, no matter how complex, please feel free to contact Power Admin at 1-800-401-2239 today!
We offer several simple and easy-to-use server monitoring solutions to ensure you can monitor the system resources and events you want to track in real-time. We look forward to discussing your needs and providing you with a complete demonstration and FREE 30-day, full-featured trial on all our server monitoring software solutions.