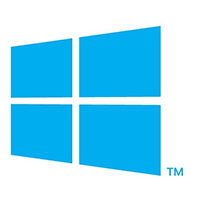 In 2015, it is hard to imagine a world without Microsoft Windows. As of May 2015, Windows operating systems account for over 90% of the desktop operating system market share

, with Windows 7 being the most popular single operating system at 57.76% of the market. While Mac OS and Linux have found increasing popularity over the last decade, nothing seems able to tackle the behemoth that is Microsoft's signature product, and with Windows 10 just around the corner, it seems like a perfect opportunity to dust off the history books.
MS-DOS
MS-DOS (Microsoft – Disk Operating System) was created in 1981 out of a need for an operating system for IBM's new personal computer and built on the infrastructure of Seattle Computer Products' 86-DOS (which Microsoft bought for $75,000). Within a year MS-DOS had been licensed to over 70 other companies, who all wanted the operating system for their own computers. Each computer had its own hardware and its own version of MS-DOS.
Windows 1.0
The first Windows, released in 1985, was originally going to be called "Interface Manager," but Microsoft's marketing department suggested that the name "Windows" would be more appealing. Designed as an operating environment for MS-DOS rather than a complete operating system, Windows 1.0 was not a commercial success. However, it did offer the first iterations of now familiar applications such as Windows Paint and a simple word processor that would later become Word.
Windows 2.0
1987's Windows 2 did slightly better than its predecessor and brought with it the first proper versions of Word and Excel. It also saw the arrival of Aldus Pagemaker, which is often cited as being the first non-Microsoft application for the system. Version 2.03 was the first to feature the ability to overlap the windows (they could only be tiled in the first version) and saw a lawsuit from Apple over claims that Microsoft had copied the look of their operating system.
Windows 3.0
With the introduction of virtual memory and VGA video cards, Windows 3, released in 1990, finally looked like it may provide a serious competitor for Apple's Macintosh interface. Virtual memory allowed users to multitask MS-DOS based software and the VGA cards allowed for greater graphics capabilities. In 1991, updates included functionality for CD-ROM drives and sound cards, starting the process of turning PCs into multimedia machines.
Windows NT
Windows NT (standing for New Technology) was designed for the business world exclusively and was focused on hardware and software portability. It was the first version to use 32-bit virtual memory on 32-bit processors and its core design would not be seen in home versions for many years.
Windows 95
Windows 95 saw the majority of the code shift from 16 to 32-bit, although some 16-bit capability was kept for backwards compatibility, performance and development time. Windows 95 also saw Microsoft starting to move away from MS-DOS for the first time, although it was still loaded briefly as part of the booting process.
Windows 98
Codenamed "Memphis," Windows 98 included new hardware drivers and the FAT32 file system to support 2GB partitions. The first iteration of Windows to offer USB support and included Microsoft Internet Explorer. This led to a federal case in which Microsoft was accused of unfair practices in trying to monopolize internet access. A second edition of Windows 98 saw the introduction of Local Area Networks.
Windows 2000
Windows 2000 was not intended as a home use product. However, it included several upgrades from previous versions. Active Directory replaced the old Windows server domain model and Terminal Services was expanded to all server versions. A revised version of DirectX also made it possible for modern games to work on the system.
Windows Millennium Edition
While it was not a fully-fledged release, Windows ME (2000) contained many significant upgrades from previous versions. Most significant of all was the fact that it was the last DOS based operating system that Microsoft ever produced. It also saw the introduction of Windows Movie Maker, Microsoft's video editing software, and System Restore, which allowed users to back-up and restore their system in the event of catastrophic error.
Windows XP
Windows XP replaced the 16/32-bit branch system of the consumer market with the Windows NT core. Drawing much criticism in terms of security, Microsoft was forced to release major service packs, after which widespread homes and businesses adopted XP. Windows XP is also the longest lasting version of the operating system, staying popular for almost six years, with support only very recently being withdrawn from it

in 2014 (12 years after its release).
Windows Vista
Vista (2006) included a major design overhaul from earlier versions, such as the replacement of the Start button with the now-familiar logo button, and the general rounding off of the corners. It also included the Windows Aero GUI, a new graphics feature and several new applications. What it is most remembered for though, is being an absolute pig on your system resources, needing 4GB of RAM

to run effectively.
Windows 7
Windows 7 (2009) improved on Vista in many ways. Faster booting, Device Stage, Windows PowerShell, less obtrusive User Account Control, multi-touch, and improved window management all helped make Windows 7 the most popular operating system on the market today.
Windows 8
Completely redesigning Windows' famous user interface, Windows 8 was not received warmly by users. Clearly designed with touchscreens in mind and a more mobile, app based experience, lots felt that it was not what they were looking for in a new operating system, which may help to explain why so many stuck with 7 or jumped ship altogether

.
This article does not come close to charting the full history of Windows. There were many other versions that sat in between the ones above, but space will not allow me to discuss them all. I have tried instead to focus on the most significant iterations. But, maybe you disagree – did I leave out a version that added something big to the field, and which is your favorite (or least favorite) edition of Windows? Please let us know in the comments.