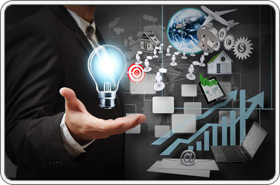 As organizations continue the trend of transforming physical processes and business models into digital ones, it's worth having a look at those issues that will vex or focus the minds of IT divisions and Chief Information Officers (CIOs) in the coming year.
Broad Strategic Moves
Every year in the US, the National Association of State Chief Information Officers (NASCIO) conducts a survey

to identify the top policy and technology issues facing state governments.For 2015 in general, State CIOs are looking to balance customer engagement with continued budget and government policy challenges. This contrasts with the approach of corporate CIOs, who are pushing hard into Big Data and other applications to improve the customer experience.
NASCIO's findings may be summarized as follows:
Security Issues
For both state actors and corporate enterprise, security concerns range from risk assessment and governance to security frameworks, data protection, training and awareness creation, and mitigating insider threats. IT departments must ensure security for increasingly open networks and applications.
Cloud Services
Organizations are weighing security, privacy and data ownership as they navigate public cloud, private cloud, hybrid and on-premises options.
Consolidation & Optimization
The trend is toward converged data center systems, where servers, storage and networking come together. Some may consider software defined data centers (SDDC), where visualization stretches from servers to networks and storage.
Broadband & Wireless Connectivity
Wi-Fi is fast becoming an expectation in users' minds – a utility or infrastructure element like electricity and roads. State CIOs will be especially focused on strengthening state-wide connectivity beyond schools and public facilities.
Budget and Cost Control
Tight IT budgets are universal. A range of steps to keep costs down might include data center consolidation, cloud, and mobile services. Open-source standards like Linux, and greater competition between vendors may also help.
Talent Management
With thousands of aging IT professionals set to retire in the coming years, the real prospect of an IT skills shortage looms. As well as attracting, developing and retaining IT personnel, organizations must develop the means to capture and retain acquired knowledge as their employees retire.
Strategic IT Planning
The challenge here is to align IT strategies with an organization's overall objectives.
Mobility
IT leaders must implement firm but reasonable mobile use policies. These should cover devices, applications, policy issues, wireless infrastructure and BYOD (Bring Your Own Device).
Disaster Recovery/Business Continuity
Preparation for acts of terrorism, natural disasters and extreme climate events will have IT departments drawing up disaster recovery plans that allow employees to work anywhere, during the recovery process. Plans typically rely on cloud services, wireless and remote access, etc.
Customer Relationship Management (CRM)
With customers becoming increasingly tech-savvy, IT departments will be stretched to take measures that build customer confidence. Strategies may embrace social media and engagement channels and increased exploitation of Big Data analytics.
Operational Matters
With changing customer behaviors and increased digitization of the enterprise, corporate CIOs will have increased responsibility

in these key areas:
1. Transforming Business Processes: Existing processes still need to be digitized, e.g., by adding online versions of physical processes. Physical processes must also be combined with the digital experience, e.g., by merging online search with on-premises customer support. For both these strategies, self-service and process automation are vital elements.
2. Managing the Transformed Operations: Service level agreements, performance monitoring and reliability assurance are required here. So too is monitoring the users' satisfaction with the processes. The management of digitally enhanced business processes should be customer-centric.
3. Driving Cultural Change: Front-line employees need to feel comfortable with the technology they use, and the transparency of every aspect of what they do, as they deal with customers. Organizations will have to embrace the notion that all information is shared – and meant to help customers make more informed decisions between a company's products and those of its competitors.
4. Managing Data, as an Asset: It's now the duty of IT to maximize the return on data. On one hand, this means driving more product and service innovations. Analysis of data from all points of customer interaction can help identify actual and potential problems, and needs that aren't being met.
5. Create New Business Models, Based On Data: An example of this is Product-as-a-Service: selling not just the product, but also the servicing of it, based on data collected from embedded sensors and lowering the cost of maintenance in the long run.
6. Make Optimum Use of Business Intelligence (BI): However much data you collect, analysis is only useful if it supports decisions. Using sensors and embedded analytics, insights can now be converted to an operational app, providing information to employees at the point of engagement – or passing the decision information to another machine.
This signals a shift from report-centric information delivery to a more app-centric approach, where users can easily and interactively get just the information they need for decision making. This puts the onus on IT, to develop the skills necessary to translate analytical conclusions into end-user apps that change performance and behavior.
A Final Thought…
IT must remain committed to finding the best approach to realize the value hidden in data. But they need to understand that technology, operations and culture play equal parts in achieving success.