By Des Nnochiri
As globalization has created workspaces far wider than the average office, video conferencing software has become an everyday tool for many business owners, employers, and employees. Using software that facilitates live video conferences between two or more parties via video, audio, and text while also allowing sharing and collaborating on files is a cost-effective way to stay connected with partners and employees working in different parts of the country or the world.
From meetings to job interviews, video conferencing software solutions are in demand in a fast-paced world where time is money and every minute spent commuting or travelling can be utilized to communicate with partners or collaborate on projects. A multitude of different video conferencing software solutions are available on the market, but we have chosen two of the most popular and interesting options for comparison when you want to cut costs and maximize productivity.
Zooming in on Zoom and Skype for Business
With affordable pricing and an attractive variety of features, Zoom

and Skype for Business

are both prestigious players in the video conferencing software market, and each offer a range of plans with various pricing models and feature sets. Most users will probably be satisfied with the features available with the Zoom Basic and Skype for Business Free plans. However, it is worth taking a look at the other options, too, especially if your business uses video conference software extensively or you want to utilize some of the more high-end features.
Both the Zoom Basic and Skype for Business Free have no price tag. However, when it comes to high-quality HD video and crisp, clear audio, Zoom Basic takes first place, as it has all the same high-quality standards as the paid plans of the video conferencing software. Microsoft has somewhat fallen behind with this fairly important feature of a video conferencing software, yet all is not lost for Skype for Business users, and if you can put up with the slightly lower call quality, the other features can certainly make up for it.
Both video conferencing software solutions also include an interactive whiteboard which allow brainstorming throughout the video conference

in their free plans. With Zoom, you can hold a video conference with up to 100 participants for up to 40 minutes, and one-on-one meetings have no time restrictions on the Basic package. Skype for Business, on the other hand, has a user limit of 300 but allows 2GB storage per user and a total of 10GB shared storage.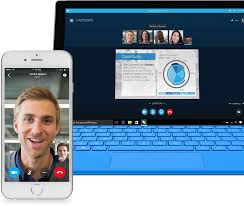 Similarly, there is an option available to share your screen with all participants with both video conferencing software solutions. With Zoom, each participant can have their screen on and the possibility to turn some of the participants on mute. The real benefit of using Skype for Business, however, comes with the integration of other Microsoft Office package products and the cross-software file sharing.
An interesting feature in Zoom—included also in the Basic package—is the possibility to divide participants into so-called breakout rooms to allow for smaller group discussions mid-meeting. Users can also record and store your meetings in MP4 or M4A file formats. Zoom is secured with Secure Socket Layer (SSL)

and AES 256 bits security encryption, though some argue more could be done to ensure better security, especially when handling sensitive company data.
The other thing to note here is that Skype for Business is no longer available as a standalone product, as it is integrated within the Microsoft Teams and Office 365 packages. Features such as Guest Access are included, however, which allow guests to join calls without signing up to a plan, which can be great when working with freelancers, for instance.
Get More When You Pay More
Zoom Pro costs $14.99 per month per host, with an unlimited meeting duration for all meeting sizes. It also gives you a complete set of controls to administrate video conferences, which small- to mid-sized businesses will no doubt appreciate. Zoom Business and Enterprise are both priced at $19.99 per month. With the Business plan, you need to have a minimum of 10 hosts, whereas Enterprise requires a minimum of 100 hosts. Both include the same features as Pro, plus a whole array of other add-ons, such as custom emails and company branding. With Enterprise, you get that little bit extra, including unlimited cloud storage.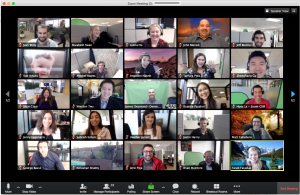 Microsoft Office Business Essentials is priced at $5.00 per user per month, whereas the Business Premium comes with a price tag of $12.50 per user per month. Both plans of the video conferencing software require an annual commitment to the subscription. The Business Essentials package allows users to schedule and record meetings, host Exchange emails, and customize email domains while providing storage space of 1TB per user. The Business Premium package also includes web and desktop versions of Word, Excel, PowerPoint, OneNote, and Outlook.
Final Thoughts
Zoom is a great option to go for when choosing a video conferencing software, especially for small businesses, but with all the add-ons and features—like integration with Google Calendar and Outlook—it is a nifty and affordable choice for larger organizations too. Both Zoom and Skype for Business, however, are easy to use, feature rich, and have similar price points. Zoom has additional functionality, which makes it more customizable. But if you're looking for a solution with simple file sharing, instant messaging, great one-on-one video chatting, and aren't so concerned about all the bells and whistles, Skype for Business will provide you with everything you need.