By Des Nnochiri
Each year brings us new technology, and it can be hard to keep up. While new gadgets used to be an extravagance only available to the wealthiest, they are no longer a rare novelty, and therefore, release day prices have dropped significantly over the years. Rather than being purchased as gimmicky status symbols, these days, gadgets add real value to our lives, which means companies now compete to produce the most useful ones and not just the flashiest.
Whether you're looking for something to treat yourself to in the January sales or are just curious about what's new, we've rounded up some of the best tech gadgets of this year.
Google Home Hub
The writers behind the Back to the Future franchise foresaw the smart home almost 30 years ago, and although the second film still has that unmistakable 80s flavor, the technology it described is surprisingly cutting-edge.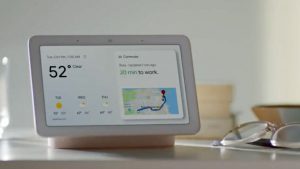 With almost 90% of Americans

owning some form of smart home device, we are moving ever closer to the fully-digitized lives the film anticipated. In 2018, Google Home Hub presented the next phase in smart living. It's no larger than a standard router, but it is able to link and control all the smart devices in your home, from lighting, to heating, to music.
Its aim is to uncomplicate our lives, and users can program it to assist in daily routines. It's ideal for people who have already upgraded their homes or those who were put off from doing so by the hassle of programming multiple devices. If the number of smart homes increases at the rate researchers

expect, hubs like this will be necessary for running them smoothly.
Apple Watch Series 4
Wearables, again, appeared in science fiction long before making their way onto shelves. Though they started humbly with pedometers, wearable gadgets now have almost as many uses as smartphones.
This year, Apple launched the fourth generation of their watch, which has been fundamentally re-engineered with a larger display and additional applications. Though still focused on fitness and activity monitoring, this gadget also has its uses as a supplement to the connected phone, with improved call functions and new ways to use Siri.
Oculus Go
Not all gadgets are necessities. Some are designed only for fun, and virtual reality gaming is currently the epitome of that. Oculus is one of the biggest names in VR gaming, with their Rift being one of the best-selling VR headsets around.
The Oculus Go, released in May 2018, is a less costly and more accessible alternative to the Rift. The Rift is known for putting strain on the connected computer, and only those with expensive, high-end rigs are able to use the headset to its fullest potential. The Go is self-contained, meaning users don't need to have an amazing desktop to connect it to, and it requires only a smartphone to use.
Victorinox Lexicon Hardside Smart Suitcase
The price tag on this may seem excessive to some, but for those who travel regularly for work or play, this could be the essential travel companion. Victorinox is the company that brought us Swiss Army Knives, so you know they're experts in convenience and utility.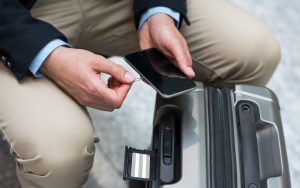 Their smart case has a USB port and space for a power pack to help keep devices alive through airport delays. Belongings are secured using state-of-the-art locks, and despite the extra fanciness, it conforms to most standard carry-on size requirements and doesn't weigh a ton. 
Jabra Elite 65t True Wireless Earbuds
These wireless earbuds connect to your phone's smart assistant so that you can give them voice commands while the phone is in your pocket. Jabra also have their own app that you can install, which will allow you to customize the way your music sounds.
The battery lasts for up to five hours, and the earbuds come with a pocket-sized charging case so that you won't be caught out while on the go. These earbuds are getting excellent reviews

across the board for their sound quality, size, and comfort.
Anki Vector Robot Sidekick
If you like the look of smart home devices but want something with a bit more character, then this little guy might make you happy. You can chat to him to get weather updates, set timers, and even take your photo. Although he's already equipped with his own AI that allows him to recognize faces and avoid obstacles, Anki is currently working on Alexa integration so that Vector can bring even more to your home.
Fat Shark 101
Drones are becoming increasingly popular, but the expense tends to put off those with only a cursory interest in the technology. The Fat Shark 101 was released this year as a more affordable—yet still high-performance—option to attract even more people to drone flying.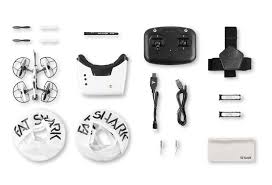 Everything you need for standard flying comes in the box, but the Fat Shark 101 is also compatible with many peripherals that keen flyers may already own, such as goggles.
Apple iPad Pro Gen 3
Apple is relentless in its technology development, and despite increasing the number of devices it releases each year, launch days continue to attract crowds. It would be difficult to produce a list of top tech for the year without Apple popping up a couple of times.
The iPad Pro was first launched in 2015 and is now on its third generation. As always, this new generation has been upgraded with latest software and hardware improvements, including edge-to-edge Liquid Retina displays, improved cameras, and superior processors.
Sonos Play:5
Sonos is one of the top brands in audio technology, and the Play:5 speaker released earlier this year is being hailed as one of the best multi-room speakers on the market.
The Sonos app allows you to choose songs from all your music services and play them in any room you like. The speaker itself is large and powerful, with both wireless and line-in compatibility for use with phones and turntables. Control it all with your phone, by touch, or connect it to your Amazon home device and give it voice commands.  
Rocketbook Reusable Notebook
This is the most affordable gadget on the list by some distance, but don't underestimate it. It is timelessly simple and, despite what you may think, is completely reusable.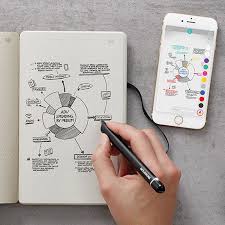 In our now largely paperless world, many of us miss the convenience and comfort of using a pen and paper. Conventional notebooks are no longer eco-friendly, and they're typically undesirable for making sensitive notes.
The Everlast allows you to write on it like a standard notebook, but your writings are then stored on the cloud. When you've filled a page with your notes, simply wipe it with a damp cloth. You can write on it again and again, and while the pen will be erased, your work will be saved.
Conclusion
Did we miss one of your favorites on this list? Don't feel put out—with so many new releases, the competition is fierce. 2018 has been an incredible year for technology, and we can't wait to see what innovation 2019 brings.