According to a recent press release

issued by IDC (International Data Corporation), the American IT market research specialist, global factory output of servers fell for the 3rd quarter of 2013 to $12.1 billion. This represents a 3.7% downturn when compared to the same period 12 months ago. It is the 3rd consecutive quarter that output has continued to decline.
 A press release from Gartner

on the same day showed a 2.1% decline over the same period year on year.
The Impact of Tablets and the Cloud

Falling PC sales have, for the most part, been blamed on the uptake of tablet and smartphone devices and their use in the enterprise (not to mention the disaster that was Windows 8). But for the server market, it is cloud computing that's taking the flack, and with just cause.
New Server Product Category – Original Design Manufacturers

A new product category has appeared for the first time in IDC's Worldwide Server Systems Factory Revenue Report. The new category is ODM Direct, which stands for Original Design Manufacturers Direct. It's the market sector that servers designed for the cloud industry are categorised under, and across the same time period it has grown a whopping 45.2% in terms of factory revenue.
The Shift from 2nd to 3rd Platform Hardware

According to IDC, the stimulus for this extraordinary growth is generated by the shift in demand away from what they classify as 2nd platform hardware to 3rd platform hardware – 3rd platform relating to cloud service provider data centres.
The Shift to Servers in the Cloud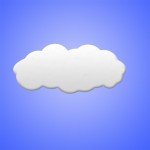 This inclusion of the new ODM Direct category, and its significant growth figure, is a clear reflection of what is happening in the physical world of IT – more and more businesses are shifting from having their own servers physically located on their own business premises, to using cloud based servers for anything from hosting software applications, to entire IT infrastructures.
The Impact of BYOD

There is another factor that is impacting on the demand for cloud services too, and this is the increasing take-up of the BYOD (Bring Your Own Device) phenomenon, whereby employees are able to use their own devices in the workplace. The increased mobility that BYOD engenders, giving employees the ability (subject to cloud connectivity) to work where and when they prefer, is being taken up by more and more businesses.
The Potential of BYOD

In a 2012 Juniper Research publication

, it is forecast that the number of consumer-owned mobile devices that will be being used under the auspices of BYOD, will reach 1 billion by 2018. This, they say, will represent 35% of all tablets and smartphones in circulation.
Realignment in Demand of IaaS, PaaS, and SaaS in Asia

In terms of conventional, premises based servers, the slump in sales is likely to continue, as more businesses go down the cloud route. We're likely to see a significant change too in the demand for the various services IaaS, PaaS, and SaaS, this also according to IDC's recent research, Advance Early Stage Cloud Adoption in Asia

.
The Changing Shape of Server Manufacturing

They predict that the shifting sands will ultimately move towards a new leadership structure inside the IT industry, as enterprises such as Amazon, HP, IBM, and Microsoft increase their investments in cloud computing. IDC envisage that by 2017 there may be as few as only 8 major players in the IaaS marketplace, as a few select businesses escalate their stake in the industry, while others cut back.
Could the Cloud become more Localised?

Whatever happens in Asia could also impact on of the rest of the world. There is talk of a potential major shift in the stance that Asia may take in relation to cloud service sourcing, following the NSA/Snowdon situation, according to IDC's Chris Morris.
If Asia legislates to allow only a more local/regional sourcing, could this initiate a global trend? If so, that too could impact on server demand, further boosting that for cloud based servers at the expense to that of conventional premises based servers. It's not just Asia though, there has been much talk surrounding using local data centres when deploying to the cloud to ensure that customer data is covered and protected by regional laws in various parts of the world.
Essentially, what it means to the industry is evolution. IT in general has moved at an astonishing pace in the last couple of decades and as such, is always subject to change through innovation and improved ways of using IT for the enterprise and consumer alike.