File access auditing...


...without the pain
PA File Sight 5.1 - File Monitoring and Auditing
PA File Sight is a file monitoring software that will help you determine who is reading from and writing to important files. It can tell you when a new file or folder is created or renamed. And, with our file watcher, when a file or folder gets deleted, PA File Sight can tell you who did it. Plus, you can often find out what program was used to perform the action.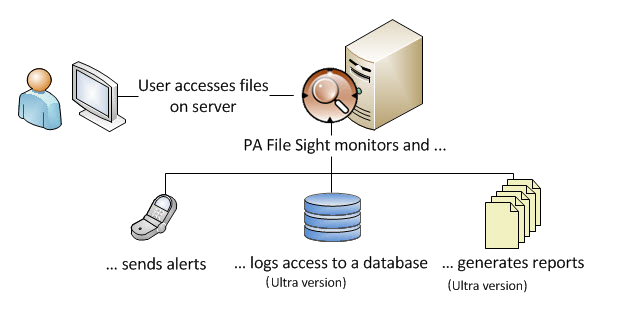 Besides file access auditing and logging actions, the Ultra Edition helps you further by providing historical reports to help see what happened the earlier, whether you chose to be notified or not. AND it lets you alert on user usage patterns (reading X files in Y time for example) to help detect file copying activity.
Screenshots
| | | |
| --- | --- | --- |
| Monitor User Activities | Many Alert Types | Configuration Security |
File Auditing Features
File Monitoring:
All files or just a subset
File and folder creation, deletion, access (reads), changes (writes)
File and folder permission changes
Successful actions and well as failures
Real-time monitoring that does not require enabling system audit events
Alert Details:
Date and time of action
Target file and folder
User account, including domain
Activity that was done to the file
Notification Responses:
Email message
SMS text message
SNPP pager, etc.
Record to a log file
Run a program
Write to a database for later reports (Ultra only)
Reports in text, HTML, .CSV or PDF formats
See the detailed feature list for more information.
Centralized Management for Ultra Edition
PA File Sight 5.1 is enterprise ready. Easily push out monitoring Satellites to watch remote servers and report back to a central system. Administer the system from anywhere.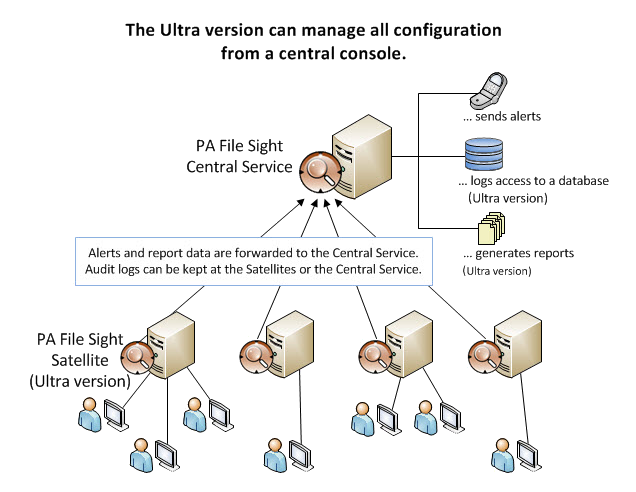 File Auditing Compliance
Many compliance mandates require auditing file access and ensuring file integrity. PA File Sight can help meet those requirements, including those listed below:
PCI (Payment Card Industry) DSS 10.5.5, 11.5, 12.9.5
SOX (Sarbanes-Oxley) DS5.5
GLBA 16 CFR Part 314.4(b) and (3)
HIPAA 164.312(e)(1)
FISMA AC-19, CP-9, SI-1, SI-7
ISO 27001/27002 12.3, 12.5.1, 12.5.3, 15.3
PA File Sight can monitor log files, even files that were opened before PA File Sight started. In addition, it can alert on writes (changes) to files, but ignore the expected appends to log files.
Questions about Ultra vs Lite?
How to Get Started?
File monitoring doesn't need to be complicated. PA File Sight can be installed and configured in literally a minute or two. Specify a local path and some file types to watch and it will get to work immediately.
Download the free trial
and see for yourself!